ISSAC HARDMAN AND THE BUSINESS OF BOXING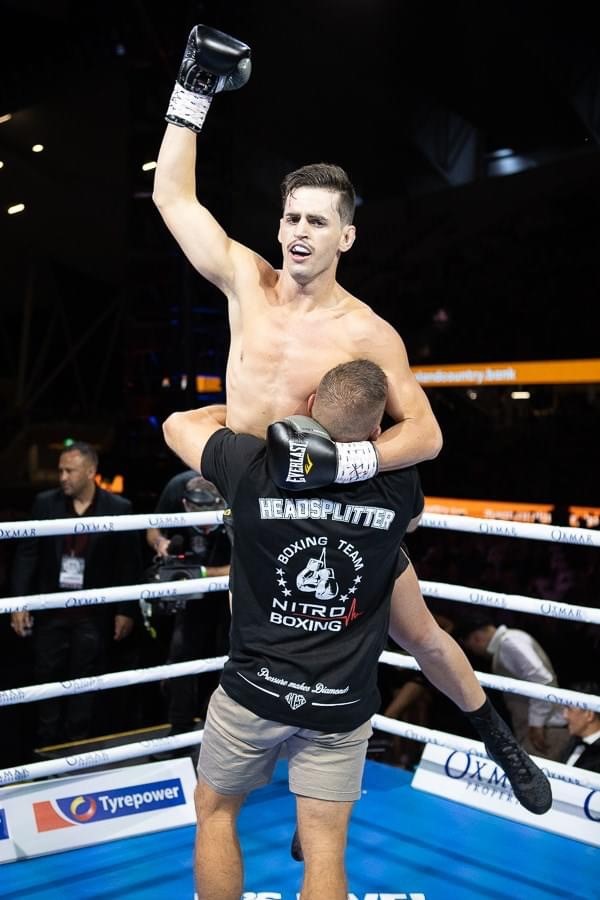 By Paul Upham – www.paulupham.com
1st December 2020
Twenty years ago in the Bankstown PCYC gym, whilst overseeing the work of his boxer training group known then as Team Fenech, an astute piece of advice about the pugilistic sport came from Hall of Famer Jeff Fenech. "Boxing is a business,' he explained dryly. "Not a sport. It's a business."
In a similar vein, former Washington Post sports columnist Tony Kornheiser and now host of the ESPN television show Pardon the Interruption, often recalls advice he received from USA television executive Don Ohlmeyer, "The answer to all your questions is money."
When you consider all of the brutal, wacky, incomprehensible and downright mean things lacking any scent of human compassion regularly seen in boxing, both inside and outside of the ring, the combined observations from Fenech and Ohlmeyer ring true.
Many professional boxers throw themselves into their craft unaware of what he takes to navigate the business of boxing. However, unbeaten 24 year-old Aussie Issac Hardman appears to have a good grasp on the need to be more than just another boxer when it comes to trying to secure and win that lucrative world title belt.
"We are a small sport in a small country," concedes Hardman. "We have to compete with the NRL, AFL and all types of professional athletes. I think it is important to have a niche thing about you that people will remember."
The desire to stand out recently saw Hardman roller blading with his pet dog for the media around the famed Wally Lewis statue outside Suncorp Stadium in Brisbane.
"I do like rollerblading with my dog," he explained. "That is not a gimmick thing. But if someone wants to punch my head in because I'm roller blading which leads to a big fight, go for it."
After a quick knockout win on the Tim Tszyu-Jeff Horn undercard in Townsville on August 26, Hardman 7-0 (6) challenges Australian middleweight title holder Tej Pratap Singh 16-4-3 (8) this Thursday night December 3 in Fortitude Valley, Queensland, televised live in Australia on Fox Sports.
"Everyone is telling me how tough Tej Singh is," reports Hardman, "and it's going to be a long, hard fight. I really hope it is. I want to prove to the Australian public I am not just a one punch hitter and I do have the boxing skills. Right now, everyone just thinks I have heavy hands. I am much more complete fighter than what my highlights are showing."
Like most athletes, the 2020 pandemic and enforced lockdown curtailed his regular boxing training routine.
"There was no sparring for quite some time,' Hardman lamented, with genuine regret. "I took a bag home and started ripping in there. It's been a pretty shitty year for everyone. After I get this next fight win, I feel like I'm turning 2020 around. I'm building my first house with my partner, so the year is coming on strong for me."
Originally from Caboolture, Hardman trains at Nitro Boxing Fitness Centre at Chermside, where he also supports himself financially with work as a personal trainer. It is where he first met his trainer Blair Studley, who he credits for helping him become the man he is today.
Hardman's father Jeffrey Hardman, who boxed professionally at super middleweight, passed after a battle with pancreas cancer when his son was only 14. Studley would later become the father figure Hardman needed to help him find his best self.
"I wouldn't be the person I am today without Blair," admits Hardman. "A lot of credit goes to him. My coach Blair Studley keeps my two feet on the ground. I know I've got a lot of work to do. But I know where I'm going."
Calling himself The Headsplitter, Hardman caught the eye of many fans with a 1st round knockout win over Jamie Weetch on the Tszyu-Horn card.
"The quick finish didn't do justice to all the hard work I put into that camp," he says.
While the knockout win was important, Hardman probably took greater value from the training camp, where he trained alongside Tim Tszyu and sparred forty rounds with the son of undisputed world champion Kostya Tszyu.
"Tim's incredible," enthused Hardman. "His whole camp is very professional. They are very serious. There is no messing about. There is no joking around. That is one thing that I took away from that experience. How switched on Tim is. As soon as he enters the gym, he is like a robot. He is there to work. Tim is going places. He will be the next big thing out of Australia."
Hardman intends to branch out with further training camps in the USA, where he can develop his skills sparring more experienced boxers.
"It was our plan to get overseas this year and train but it didn't work out with the pandemic," he explains. "We have to get ourselves financially into the position where we have sponsors so we can spend weeks away in the United States. The Americans are the cream of the crop for boxing training. To get over there and train and spar is important. Getting those rounds with different styles is very necessary in your development."
Under contract with promoter Dean Lonergan, Hardman knows the importance of having someone who can secure the big fights a boxer needs to progress in their career.
"Dean brought the biggest fight to Australia with Manny Pacquiao versus Jeff Horn," observes Hardman. "He is the top of the food chain for promoters. I'm very happy to be working with Dean and he is providing a great platform for me."
Having only dedicated himself fulltime to his professional boxing career for twelve months so far, Hardman is pleased with his progress and allows himself a glimpse into the future. Middleweight is one of the most competitive in the sport today with stars such as Canelo Alvarez, Jermall Charlo, Gennady Golovkin and Demetrius Andrade.
"That's exciting," says Hardman. "The middleweight division is so deep. There are heaps of big names we can churn through. It is not daunting at all coming up against these guys. Give me two to three years and I'll be in the top ten in the world and gunning for those guys. I guarantee it."
Formalising Hardman's plan for boxing success into a simple checklist, you see the following five key action points:
Coach/trainer with personal connection committed to boxing skills improvement? Check.

Marketing strategy to allow boxer to stand out and capture boxing fan and media attention? Check.

Internationally connected promoter who can secure the big fights needed? Check.

Focus on winning national and regional titles to enable top fifteen sanctioning body ranking? Check.

Training alongside and sparring with other talented boxers both locally and overseas? Check

.
But Hardman is also savvy enough to know that the real key to achieving long term boxing success is to stay on top by winning. While in other sports you can afford a loss or two during the season and still win the end of year Grand Final, in boxing success is largely predicated on being perfect all of the time.
"Winning is everything to me," agrees Hardman. "Floyd Mayweather Jr said that as soon as you lose your zero (undefeated record), they will kick you to the curb. That's the way it is and I understand that. It is important to win. Pressure is a privilege. You don't get a position of immense pressure unless you have put in the hard work."
Which circles back to the Tej Pratap Singh-Issac Hardman middleweight boxing match on Thursday night. This will be Hardman's eighth professional boxing match. If you factor in his nine prior mixed martial arts contests, Hardman feels his own resume of fight experience is satisfactory for anything he will face this week.
"Tej Singh is experienced," admits Hardman. "But I've seen a lot of things in the combat ring. That is the only extra tick he has in his column right now. I have the boxing skills. I have the engine. I have the will. There is no way that man beats me on Thursday night."
 
Tej Pratap Singh vs. Issac Hardman for the Australian middleweight boxing title can be seen live on Fox Sports Australia Channel 505 on Thursday 3rd December 2020 from 6:30pm AEDT.